Objectives
Overall management of the Teaching Veterinary Hospitals of the University.
Technical and administrative control of the Department of Clinics, Madras Veterinary College and VC & RI, Namakkal ; Veterinary Clinical Complex, VC & RI, Orathnadu and Tiruneveli ; Resident Veterinary Services Section, Centralised Clinical Laboratory, Madras Veterinary College and Veterinary University Peripheral Hospital, Madhavaram, Chennai-51.
Technical control of all Clinical Departments viz., Department of Veterinary Clinical Medicine, Veterinary Surgery and Radiology, Veterinary Gynaecology and Obstetrics of all constituent colleges of TANUVAS.
To plan and supervise research in the clinical subjects at all campuses of the University.
To modernize and strengthen the facilities for treatment of animals in all the Teaching Veterinary Hospitals of the University.
To co-ordinate with the Deans of Colleges, Director of Research and Director of Extension Education in teaching, research and extension activities.
To provide training programme to field staff of Tamilnadu and other States.
To educate public on Animal Welfare activities.
To provide Mobile Veterinary facilities in and around the Teaching Hospitals of the University.
To Identify field problems related to sick animals in Tamil Nadu and to design an integrated approach for solving the clinical problems.
Veterinary Teaching Hospitals
The Directorate has four Teaching Hospitals spread over the four Veterinary Colleges in the State namely
Madras Veterinary College Teaching Hospital, Vepery, Chennai
Veterinary College and Research Institute Teaching Hospital, Namakkal.
Veterinary College and Research Institute Teaching Hospital, Orathanadu
Veterinary College and Research Institute Teaching Hospital, Tirunelveli
In addition, the Directorate has a Resident Veterinary Services Section at Madras Veterinary College, Chennai one Veterinary University Peripheral Hospital at Madhavaram Milk Colony, Chennai to cater to the growing needs of the animal owners and farmers and to support the educational and research programmes of the University.
The Veterinary Teaching Hospitals provide high quality veterinary medical care and client service. The hospitals function from 8.00 a.m. to 1.00 p.m. on all working days and from 8.00 a.m. to 11.30 a.m on government holidays. Emergency services for both large and small animals are available round the clock both at Resident Veterinary Services Section, Madras Veterinary College and Veterinary College and Research Institute, Namakkal.
Facilities
The facilities in small animal services include specialty in Cardiology, Dermatology, Internal Medicine, Ophthalmology, Orthopaedic surgery, Immunization, Dentistry, Theriogenology and General Surgery and in Large Animal - Medicine, Surgery, Gynaecology and Obstetrics. The specialty services for both large and small animals includes Radiology, Arthroscope, C-arm, Ultrasonography, Doppler, Gastrofibroscope, Bronchofibroscope, Rhinoscope, Colonoscope, Otoscope with Endoscopic image documenting system, Slit lamp Bio-microscope, Laparoscope and Vaginoscope.
Computed Tomography
Endoscopy and Ultrasonography
Cardiology
Radiology and Physiotherapy
Arthroscopy and Orthopaedics
Ophthalmology
Operation Theatre Services
Canine Breeding
Large Animal Clinical Services
In-patient facility
Pharmacy
Centralised Clinical Laboratory
Ambulatory Veterinary Care and Ambulance Services
Veterinary Medical Record
Emergency and Critical Care Units
Clinical Referral Services and Specialty Practice Units
Infectious Disease Unit
Blood Bank
Computed Tomography
The CT Scan unit uplifts the diagnostic modality of the Radiology unit and provides précised diagnosis of various alignments.
Allows radiologists and other physicians to identify internal structures and visualize the shapes, size , density and texture
Benefits of CT includes reducing the need for exploratory surgeries, improved tumour diagnosis and treatment and to diagnose thoracic and cranial diseases
Endoscopy and Ultrasonography
The non invasive techniques like Endoscopy, Ultrasonography are used as distinctive diagnostic aids in both large and small animals.
Endoscope is used to view the inner side of the respective organs and helps to identify the anatomical distortion, pathological changes, nodules, growths, tumors, foreign bodies and to do diagnostic procedures like biopsy and aspirating fluids for culture.
It also aids in treatment like removing the foreign bodies and tumors and controlling the bleeding spots.
The ultrasound provides additional imaging of abdominal and thoracic organs for diagnosis of pregnancy, pyometra diseases of the reproductive tract, tumours of internal organs, intussusceptions etc.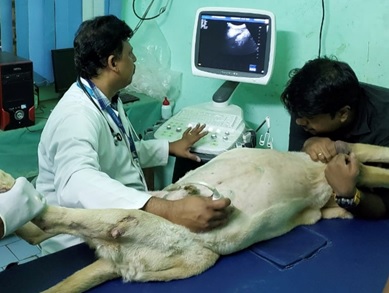 Ultrasound Scanner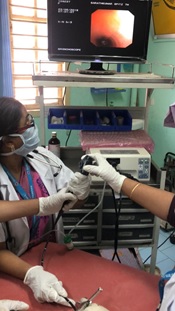 Endoscopy Unit
Cardiology
The cardiology unit with gadgets like Doppler, ECG, digital phonocardiograph, pulseoximeter, holter monitoring system aid in accurate diagnosis of heart diseases in both large and small animals.
Radiology and Physiotherapy
Plain and contrast skiagram of high quality for small animal, small ruminants and large animals are done for effective confirmative diagnosis. The laser physiotherapy for chronic wound healing and musculo skeletal disorders is an added feature
Arthroscopy and Orthopaedics
Arthroscopy is used for exploration and treatment of various joint disorders. Orthopaedic surgery on line with human is performed using C-arm facilities. Internal and external fixation for fracture management is carried out for small and large animals.
Ophthalmology
The eye care centre equipped with slit lamp Bio-microscope, aid in diagnosis of ophthalmic diseases and retinal manifestation of systemic diseases. The operating ophthalmic microscope of this hospital with phaco for cataract surgery has taken a lead in performing cataract surgery for small, farm and wild animals.
Operation Theatre Services
Operation theatre with amenities to perform soft tissue and orthopaedic surgery is available for small animals.
The large animal operation theatre with hydraulic operation table is used to perform routine surgeries and emergency operations like cesarean section and diaphragmatic hernia repair in cattle.
The large animal theatre has a special Rumenotomy trevis designed to perform rumenotomy in cattle.
Narcovet, the large animal anaesthetic apparatus is used in bovines and equine for maintaining anesthesia and providing ventilation.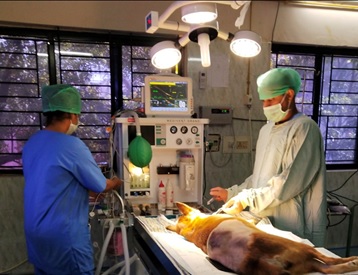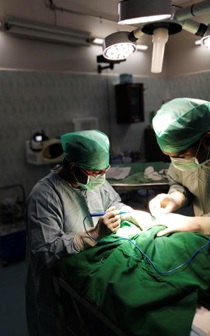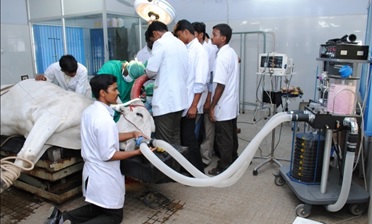 Canine Breeding
A canine breeding unit performs artificial insemination in canines using fresh diluted semen and tran-cervical intrauterine insemination using frozen semen. Determination of accurate time of breeding using cytology and vaginoscopy are pioneer services of this unit.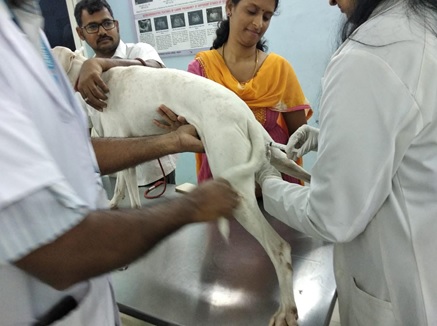 Large Animal Clinical Services
The large animal services comprises of artificial insemination, infertility clinic, obstetrical unit, infertility diagnostic lab, detorsion pit, rumen lab, udder care unit, hoof care unit and soundness examination unit.
A large animal gastro enterology unit deals with medical management and surgeries for the digestive disorders in ruminants.
The out-patient units with such advanced amenities attract large number of clinical cases.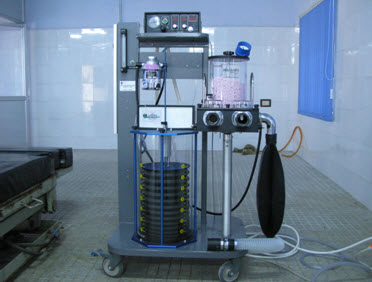 Large Animal Gaseous Anaesthetic Machine with Ventilator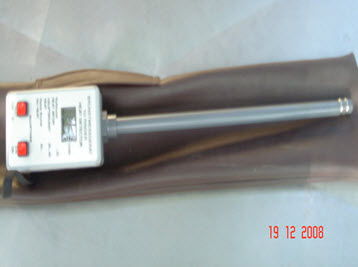 Estrus Detector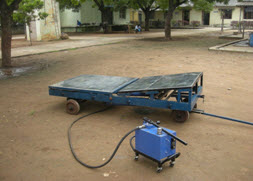 Hind Quarter Elevator
In-patient facility
The teaching hospitals provide in-patient admission to farm and pet animals. The large animal in-patient is equipped with sling and sand bed for treatment of recumbent animals and colic box for horses. Facilities for stay are provided to the cattle owners in the in-patient units.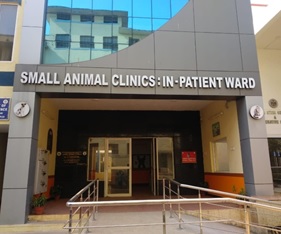 Pharmacy
The pharmacy deals exclusively with veterinary medicines and provides important services such as
Dispensing of medicines for inpatient and outpatient animals. The pharmacy attached to the Department of Clinics in Madras Veterinary College and Veterinary College and Research Institute, Namakkal purchases and issues drugs to the different units based on the prescriptions for treatment of animals at free of cost.
Special compounding of products that are not commercially available
Specific drug information answers
Consultation services for veterinarians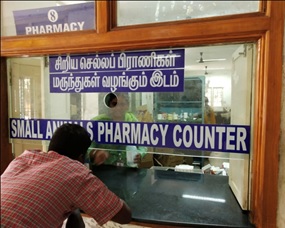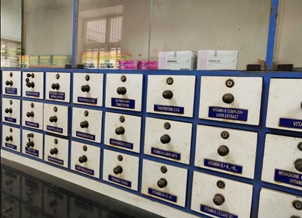 Centralised Clinical Laboratory
The Centralized Clinical Laboratory comprises of clinical pathology, clinical biochemistry, clinical parasitology and clinical microbiology division to support disease diagnosis. This laboratory process and analyse blood, urine, faecal, skin and cytology specimens from large and small domestic and exotic animals.
Samples are received from clinicians, researchers, veterinary practitioners and veterinarians from departments within and outside the State. The samples are analysed using multi species automated whole blood haematology analyzer and semi automated biochemistry analyzer.
Ambulatory Veterinary Care and Ambulance Services
The Veterinary University Peripheral Hospital, Madhavaram Milk Colony, the Emergency and Critical Care Unit at Madras Veterinary College and Veterinary College and Research Institute, Namakkal, renders veterinary care to the farm and pet animals in and around the city and in rural areas.
Livestock in distress are transported by ambulance on payment of hire charges to the hospital for detailed investigations and treatment.
Veterinary Medical Record
To ensure optimal continuity of care, the veterinary teaching hospital maintains the medical record that documents diagnosis and treatment of animals. The medical record includes the summary of animal care and laboratory test results.
The data available is used by research scholars and scientist to analyse the pattern of disease and to forecast suitable remedial measures to be undertaken to contain the disease. The incidence and occurrence of each disease are also analysed for future guidance.
Emergency and Critical Care Units
A separate Emergency and Critical Care unit functions round the clock to provide veterinary critical care to the patients with medical, surgical and obstetrical emergencies.
The unit also gives training to the students and internees to handle veterinary emergencies and give advice to livestock farmers and pet owners on veterinary health care.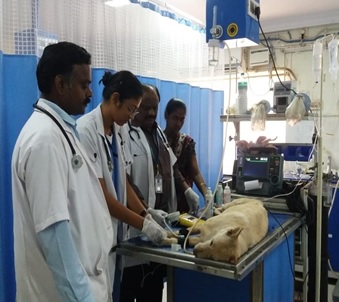 Clinical Referral Services and Specialty Practice Units
The hospital serves as a referral centre for field veterinarians wherein cases of special interest are referred from within and outside the state. Field investigation on the outbreak of diseases in both large and small animals is done by specialist available in the hospital.
Treatments for various ailments of wild and exotic animals are also being done by specialist of this teaching hospital.
The excellent clinical material and facilities available in this hospital is utilized by the research scholars of this institute to pursue their research.
Clinical Human Resources Development
Advanced Clinical Training and Skill Development Programmes in specialized areas like
Emergency Medicine
Cardiology
Dermatology
Gastroenterology
Nephrology
Ultrasonography
Laparoscopy
Endoscopy
Ophthalmology
Anesthesiology
Radiology
Ruminant surgery
Bovine Infertility
Soft tissue surgery
Small animal dentistry
Orthopaedics
Canine breeding and artificial insemination.
These Programmes are conducted for veterinary practitioners from all over India every year.
International Student Training and Externships
The Clinical Departments and the Teaching Hospitals offer clinical internship training programme to the international students. The infrastructure available attracts students from other countries to take up clinical internship training and study abroad programme.
The undergraduate students of Chattogram Veterinary and Animal Sciences University, Bangladesh go through their clinical internship training every year.
The study abroad programme is undertaken by students of Oklahoma State University and Washington State University, USA and many other countries etc.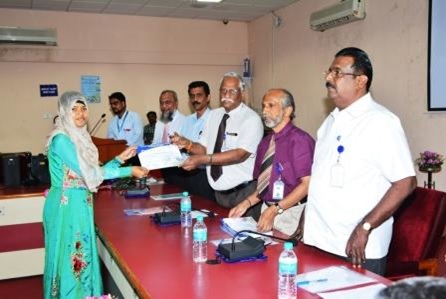 Clinical Activities at a Glance
In the year 2011-2012, the cases treated at the Directorate of Clinics are as follows:
Description
MVC
VUPH
VC&RI
VCRI TNI
VCRI OND
TOTAL
Clinics
RVSS
Madhavaram
NKL
Canine
111129
7124
17319
10294
12397
5715
163978
Feline
6612
1154
396
421
159
32
8774
Equine
1150
68
4
128
137
104
1591
Caprine/Ovine
4178
719
903
3279
10490
6418
25987
Avian
8837
263
1003
271
553
888
11815
Bovines
10700
393
1168
11969
5274
1332
30836
Others
723
111
172
59
61
91
1217
Total
143329
9832
20965
26421
29071
14580
244198
A.I. done
1108
-
-
3103
16
3531
7758
VACCINATION
ARV
9010
-
1949
1024
1678
630
14291
DHPPi L
17783
-
4201
2143
3329
981
28437
RDVK&F
49 vials
-
-
-
-
-
49
SURGERY
SURGERY
1843
0
70
855
430
482
3680
Clinical Laboratory Services Offered
| | |
| --- | --- |
| No. of blood samples and smears received for Hematological Examination | 42540 |
| No. of urine samples examined | 938 |
| No. of skin scrapings examined | 245 |
| No. of bio-chemical tests carried out | 39266 |
| Clinical Microbiology : ABST | 3284 |
| Total no. of faecal samples examined | 778 |
Outreach and Extension Activities of the Directorate
Mass contact programme

Four mass contact programmes and Six veterinary health camps were conducted to benefit farming community both at Madras Veterinary College Teaching Hospital, Chennai and Veterinary College and Research Institute Teaching Hospital, Namakkal / Orathanadu / Tirunelveli and Veterinary University Peripheral Hospital, Madhavaram.
Five Free anti-rabies vaccination camp were conducted at Madras Veterinary College, Veterinary College and Research Institute, Namakkal / Orathanadu / Tirunelveli and Veterinary University Peripheral Hospital, Madhavaram

Talk

Eleven useful messages through radio / Television programmes were delivered for the benefit of farmers and pet owners.

Field investigation

Eight field investigations in dogs and wild animals were done for this year.

Guest Lectures

Ninety two guest lectures were delivered during various training programmes organized by various colleges.