Objective
To extend effective and efficient library and information services to the students, members of the faculty and scientists of the University.
To reflect and support the curriculum of the college and enrich all parts of the educational program in order to meet their personal, educational, and professional needs.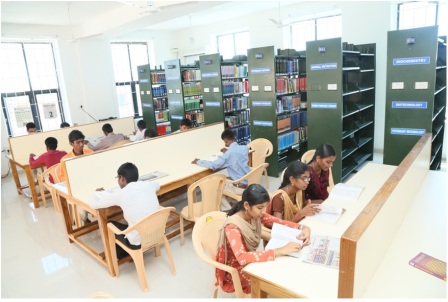 Working hours
The library is open on weekdays from 9.00 a.m. to 5.00 p.m. (Monday to Friday).
Administration
The Library is functioning under the direct control of the Dean, Veterinary College and Research Institute, Tirunelveli. A Professor is nominated as Officer-in-charge Library supported by one Assistant Librarian and one Basic Servant. The Library Committee consists of the Dean, Professor and Head of Various faculties of the College and Assistant Librarian. The Dean is the Chairman of the Library Committee and Officer-in-charge of the Library is Convenor of the Library Committee.
Privileges of borrowers
The University Officers, Professors and Associate Professors can borrow 12 books; Assistant Professors can borrow six books at a time for a period of 30 days from the library. The UG students are eligible to borrow three books at a time for a period of 10 days.
Users are informed that:
Nobody is allowed inside with coats, Umbrella, bag, big purse, note books, book file etc.
They are permitted to carry only loose sheets of papers. Users shouldn't cause damage to books , furniture etc.
Books are loaned on cards only.
During issue, the condition of the books i.e.damage/ mutilation should be informed, as otherwise user is held responsible.
Reference books, Dictionaries, Manuals , Maps etc., are not loaned.
They shouldn't trace or mark on books , journals etc.
Replacement of books in the Racks by users is prohibited.
Smoking , spitting and use of mobile phone are strictly prohibited.
Admission of outsiders is at the discretion of the authorites
Library Services
Document lending
Reference
Current Awareness Service
Selective Dissemination of Information
Online Public Access Catalogue (OPAC)
Reprography - Photocopying, Printing, Scanning
Resource sharing through Consortium of e-Resources in Agriculture (CeRA)
Preparation and supply of Identity cards to the library users, staff and pensioners
Organisation of periodical Information Literacy Programmes
ACTIVITIES
Collection development
Books
The library has a collection of about 1433 books. The book collection of the library is regularly updated with the inputs from the students and faculty members. Text and reference books required to meet the requirements of all the B.V.Sc. & A.H. course have been procured, processed and kept for use by the library users.
Journals
In the electronic age, information-seeking process is made so much easier and quicker by introduction of e-journals and digital library. Falling in line with modern electronic era, the VC&RI Library has also activated on-line access to about 10 foreign journals and 20 Indian journals. A list of Open Access e-Journal Portals has also been compiled by the Library and web links established to those portals to ensure easy access to the invaluable journal literature.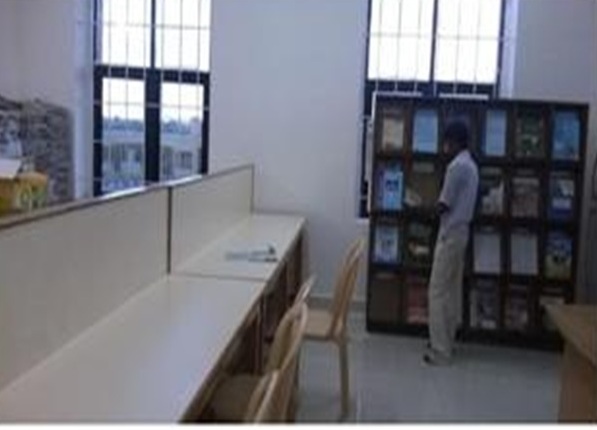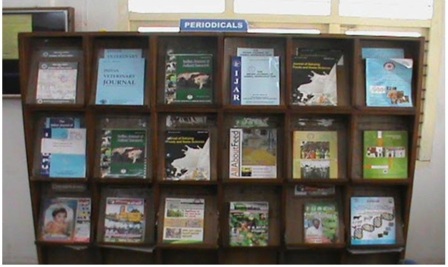 Consortium for e-Resources in Agriculture (CeRA)
In addition to its own collections, the VC&RI library has access to Consortium for e-Resources in Agriculture (CeRA), an online journal consortium funded under NAIP of ICAR. CeRA provides access to about 2,800+ online journals covering various disciplines of agricultural sciences including veterinary and animal sciences.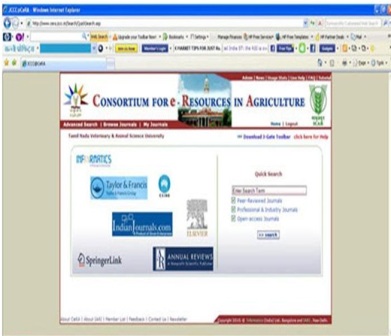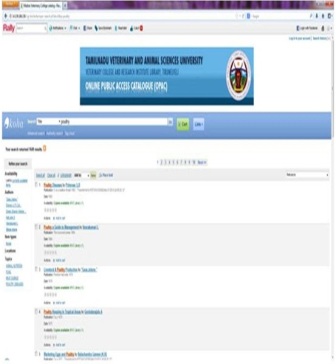 System, Classification and Cataloguing
Open Access System
Colon Classification System (OPAC available)
Library Automation
Circulation activities of the library had been automated using "KOHA" Integrated Library Management System". Necessary equipment for automation of the library viz., computers, printer, scanner, barcode label printer, barcode readers etc., had been procured under ICAR Development Grant.
Online Public Access Catalogue (OPAC)
The resources of the library in terms of books and other publications have been catalogued and the Online Public Access Catalogue (OPAC) of the library is made available through the Library Network. At present, 5 computer terminals have been provided for the library users for OPAC.
Reprographic Facilities
Photocopying and Printing facilities are available to the library users at nominal charges. To improve the services, a multi-colour multi-functional digital copier (scanner, printer and copier) had been added. The students and staff are utilizing the facilities for their reprographic requirements.
Resource Sharing
VC&RI Library is a participating library under CeRA project and through this project it shares the library resources of about 123 libraries including SAU/SVU and ICAR institute libraries.
Information Literacy / Library Orientation Programmes
The VC & RI Library periodically conducts information literacy / library orientation programmes to the library users. Awareness programmes are also being conducted for the benefit of library users regularly. And also hands on training gave to utilize the library online resources like OPAC, CeRA, Science Direct, Cab Direct Online , ICAR, WHO, OIE, TANUVAS Website E-learning sources, Google Scholar, Google Translator etc.
Book Exhibition
Book Exhibitions were organized regularly by the Library, VC&RI, Tirunelveli for the benefit of students, staff and faculties of the College. Approved Book Sellers of the University participated and displayed the latest books.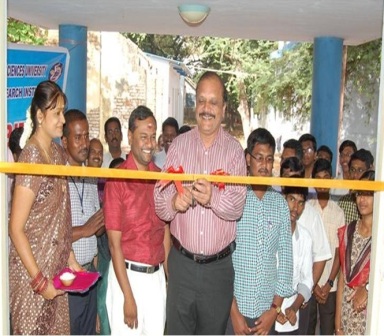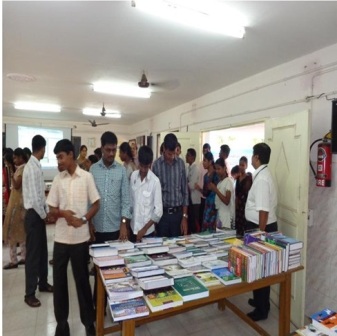 Library Utilization
Average per month Number of staffs visiting : 155
Number of students visiting : 221
Number of Books issued on loan : 103
Number of copies Xeroxed : 2358
Number of copies printout taken : 181
Number of users browsing the Internet : 180
Faculty
Dr. S.Malmarugan, Officer In-Charge, Library | malmarugan.s@tanuvas.ac.in | Mobile: +91-75981 72607
Dr.S.Senthil Kumar, Assistant Officer In-Charge | senthilkumar.s@tanuvas.ac.in | Mobile:+91–94862 58393
Dr.S. Kopperundevi, Assistant Librarian l devielangowins@gmail.com | kopperundevi.s@tanuvas.ac.in | Mobile: +91-89039 36399
Contact
The Officer-in-Charge,
Library, Veterinary College & Research Institute,
Tirunelveli – 627 001.
Tel: +91-462-233 63 43
e.mail : libvcritni@tanuvas.org.in