Mandate
Identification of novel unconventional feeds and development of technology for feeding livestock.
To increase the feed efficiency in grazing animals through strategic supplementation and rumen manipulations.
Development of feeding strategy to sustain livestock during natural calamities.
Manipulation of dietary management for developing value added animal products/ functional foods for human beings.
Evaluation of newly released fodder crops in ruminants.
Formulation and evaluation of low cost complete rations.
Production and Supply of TANUVAS SMART Mineral mixture to the dairy farmers
Production and Supply of Mineralized Salt Lick to the needy farmers
Establishment of fodder bank.
Establishment of fodder seed production unit.
To evaluate feed or fodder to ascertain their quality.
Schemes
A. Plan schemes
1. Institute of Animal Nutrition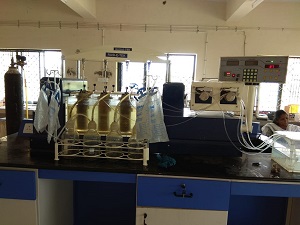 RUSITEC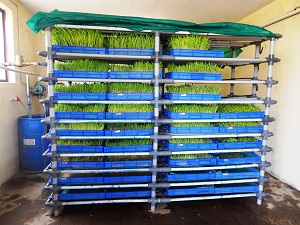 Hydroponics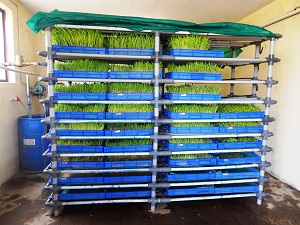 Quality Control Laboratory
2. Evaluation of fodder crops and agro-industrial by-products and its utilization in economic complete feed formulations.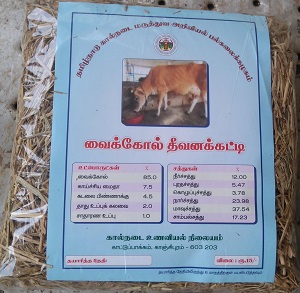 Complete feed block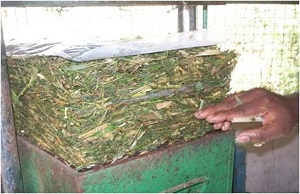 Mixed Hay Block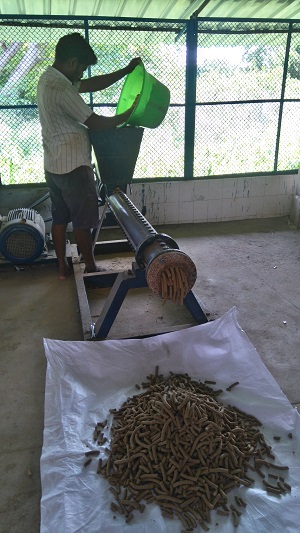 Extruded Feed
B. Externally funded schemes
1. ICAR- AICRP on Agroforestry.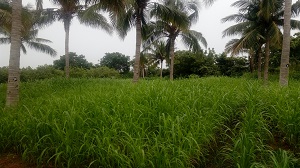 Hortipasture model of Agroforestry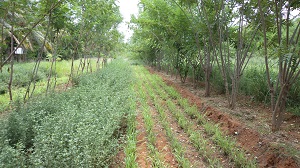 Three tier model of Agroforestry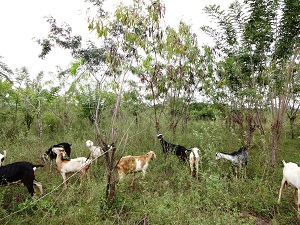 Silvipasture model of Agroforestry
2. TANUVAS - TNIAMP scheme "Sensitizing farmers on "nutritional supplemental strategy" developed at TANUVAS to increase productivity in dairy cattle and mitigate methane emission"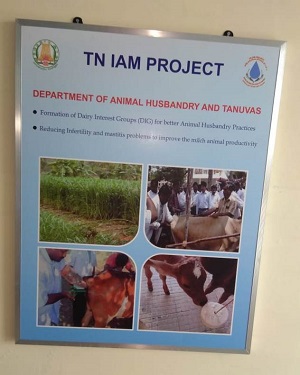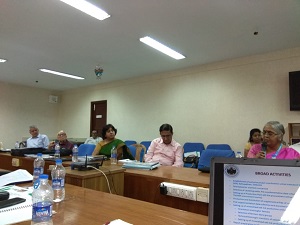 C. TANUVAS Self financing schemes / Revolving fund schemes
1. SFS on TANUVAS SMART Mineral Mixture Production Centre at IAN, Kattupakkam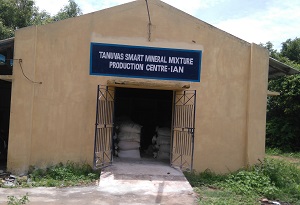 Mineral Mixture Production Unit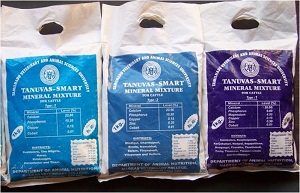 TANUVAS SMART Mineral mixture
2. RFS on Setting up of Mineralized salt lick production unit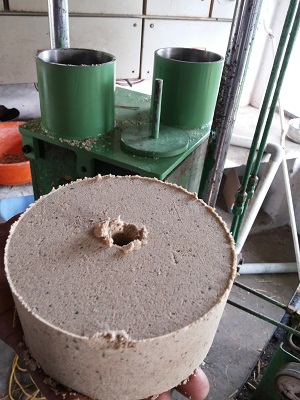 Mineralized salt lick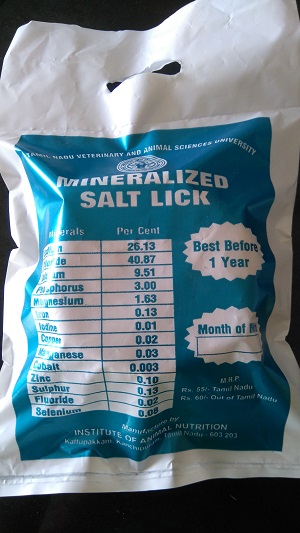 Mineralized salt lick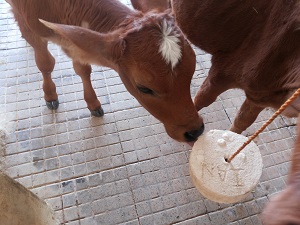 Mineralized salt lick
3. RFS on Establishment of Bajra - Napier Hybrid grass (CoCN-4) fodder production unit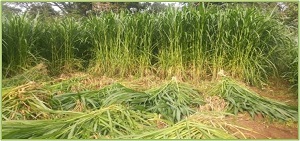 Bajra - Napier Hybrid grass fodder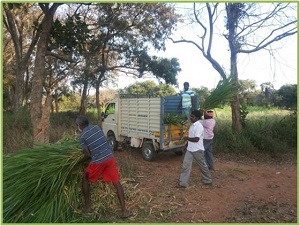 Bajra - Napier Hybrid grass fodder
4. RFS on fodder seed production Unit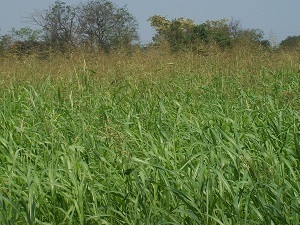 Fodder Sorghum CoFS 29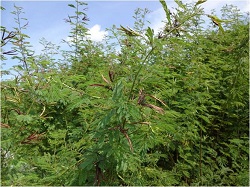 Fodder Desmanthus (Velimasal)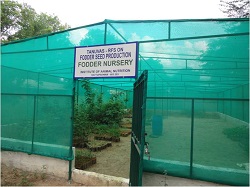 Fodder Nursery
Achievements
Research
Agroforestry models established at Institute of Animal Nutrition acts as a knowledge park for farmers and students for their adoption and further propagation.
Value added tree fodder products like tree leaf meal, tree fodder blocks, extruded feed using tree fodders were prepared and propagated among farmers for their adoption during various trainings / workshops.
Biomass yield and carrying capacity to hold different livestock species under various agroforestry models were arrived with different fodder crops to augment fodder production and productivity in animals.
Institute received the "BEST PRESENATION AWARD" during the Agroforestry Annual Group Meeting - 2016 from the funding agency - Central Agroforestry Research Institute, Jhansi.
Supplied so far around 170 tons of TANUVAS SMART mineral mixture and 15 tons of Mineralized salt lick to the dairy farmers throughout Tamil Nadu.
Urea treated Complete feed block has been prepared for economic feeding of low yielding animals.
New fodder varieties such as Bajra – Napier hybrid grass Co(BN)5, Fodder Sorghum Co31 and Fodder Cowpea Co(FC)8 were evaluated for ruminants.
Unconventional feed resources like Samai, Varagu, Soybean hulls, Mango-peel waste, Tapioca thippi and animal organic wastes were evaluated for ruminants.
Top feed resources like Subabul (Leucaena leucocephala), Vagai (Albizzia lebbek), Peepal (Ficus religiosa), Banyan (Ficus bengalensis), Gliricidia sepium, Othiyan (Lannea coromadelica), Jack (Artocarpus heterophyllus) and Indian cork (Millingtonia hortensis) tree leaves were evaluated for dairy animals and small ruminants.
Teaching and Training
Training to under graduate students during their internship programme.
The research scholars from MVC of TANUVAS utilize the facilities available at this institute to carry out their research work.
Trainings conducted
TNSCST sponsored farmers workshop entitled "Popularizing fodder preservation techniques to the farmers of Tamil Nadu for sustainable livestock production" was conducted by the Institute in two batches: from 03.07.2017 to 05.07.2017 and from 18.07.2017 to 20.07.2017.
Training programme on "Urea enrichment of rice straw and preparation of rice straw based complete feed blocks" was conducted to Myanmar's scientists deputed by MSSRF on 13.07.2017.
NABARD sponsored CAT programme entitled "Augmenting fodder productivity through popularizing home garden based agroforestry models among rural women self-help-group" was conducted from 12.12.2017 to 13.12.2017
One day farmers training entitled "Integrated Crop – Livestock System" was organized under IAEA Scheme by IAN, Kattupakkam, Directorate of Centre for Animal Production Studies, TANUVAS on 16.08.2018.
Services Offered
Regular feed and fodder analysis through Quality control laboratory services.
Training programme is conducted on feed quality control analysis and RUSITEC to laboratory technical person.
Regular consultancy services to the needy farmers pertaining to the fodder cultivation, compound feed manufacturing and Feeding management of animals with locally available resources etc.,
Training programme to the needy farmers on fodder cultivation and preservation techniques, fodder seed production, Enriched paddy straw blocks, TANUVAS SMART mineral mixture production, mineralized salt lick production etc.,
Sale of green fodder, fodder seeds, fodder slips and fodder tree saplings.
Sale of TANUVAS SMART Mineral mixture and Mineralized salt lick to the needy farmers.
Feed Analytical Services offered and their Charges/Products available at IAN
Technology Transferred
Enriched Paddy Straw Blocks
Preparation and feeding of sugarcane tops silage.
Thrust Areas
Development of cost effective feeding programs for different livestock by incorporation of unconventional feed resources and agro-industrial by-products.
Propagation of package of practice for hydroponic fodder production at farmers' level.
To undertake need based research in emerging areas of Animal Nutrition.
Fodder / fodder seed bank - Cultivation and supply of quality fodder / seeds to local farmers.
Development of value added livestock products through nutritional interventions.
To produce complete feed block to meet scarcity arising during natural calamity.
Preparation of total mixed ration in the form of extruder feed, complete feed block and complete feed mash for livestock.
Faculty
Dr. L. Radhakrishnan, Professor and Head (i/c)
Dr. S. Gunasekaran, Assistant Professor
Dr. R. Murugeswari, Assistant Professor
Dr. M. Suganthi, Assistant Professor
Dr. P. Anuradha, Assistant Professor
Contact
The Professor and Head,
Institute of Animal Nutrition,
Kattupakkam – 603 203.
Phone: +91-44-27451525
E-mail: ian@tanuvas.org.in