Genesis and Objectives
The Department of Veterinary Gynaecology and Obstetrics was created as a constituent of Veterinary College and Research Institute, Orathanadu, Thanjavur district during the year 2015 with an aim of teaching, research and augmentation of fertility and fecundity.
Units
Clinical
Large Animal Artificial Insemination and Gynaecology unit
Large Animal Obstetrics unit
Large Animal Operation theatre
Small Animal Gynaecology unit
Small Animal Obstetrical operation theatre
Infertility diagnostic lab
Speciality unit
Research Laboratories
Museum-cum-Phantom hall and palpation room
Semen/Andrology Lab
ART Lab (Assisted Reproductive technology Lab)
Education
As per the new VCI semester pattern, three theory courses for the under graduates are being offered. Facilities such as phantom box, palpation box, a small museum, under graduate laboratory and a lecture hall with extension aids are available for teaching.
Under Graduate courses
VGO 411 Veterinary Gynaecology 2+1
VGO 421 Veterinary Obstetrics 1+1
VGO 511 Veterinary Andrology and Reproductive Techniques 1+1
Research
Core areas of research are focussed towards recent trends in the management of reproductive problems and controlled breeding in bovines. Ultra sound examination of reproductive status is being done to assess the reproductive status.
| Sl.No. | Name of the Project | Year | Funding Agency | Budget (Rs.) | Status |
| --- | --- | --- | --- | --- | --- |
| 1 | Oestrous Synchronization to improve fertility and productivity in cows and buffaloes of Tamil Nadu | 2016-2017 | Tamil Nadu Livestock Development Agency | 20.00 lakhs | Completed |
| 2 | Establishment of Regional Artificial Insemination Training Centre at Veterinary College and Research Institute, Orathanadu | 2015-2017 | Tamil Nadu Livestock Development Agency | 50.00 lakhs | Completed |
| 3 | National Project for Bovine Breeding - Multi Purpose Artificial Insemination Technician for Rural India - (MAITRI) training - 125 Trainees | 2015-2017 | Tamil Nadu Livestock Development Agency | 12.50 lakhs | Completed |
| 4 | National Project for Bovine Breeding - Multi Purpose Artificial Insemination Technician for Rural India (MAITRI) training 40 Trainees | 2017 | Tamil Nadu Livestock Development Agency | 5.20 lakhs | On going |
Infrastructure
Equipment available
Autoclave
Binocular microscopes
Binocular Research microscope
Colour Doppler Ultra sonogram
Hind quarter elevator
Incubator
Monopan Electronic weighing balance
Stereo Zoom microscope
Trinocular Microscope
Water bath
Water suction pump
Training:
Multipurpose Artificial Insemination training for Rural India (MAITRI) under Establishment of Regional Artificial Insemination Training Centre at Veterinary College and Research Institute Orathanadu by TNLDA for Rs 62.5 lakhs
The objective of the project is to establish a regional Artificial Insemination training centre at VCRI Orathanadu and to impart training on Artificial insemination and pregnancy diagnosis to rural unemployed youths of various districts in Tamil Nadu by department of veterinary Gynaecology and Obstetrics. In this context Dept. of VGO VCRI Orathanadu has completed three batches of training for total 85 trainees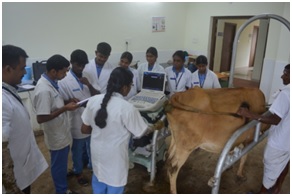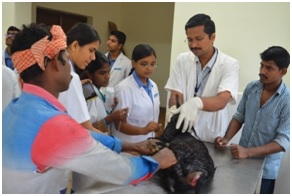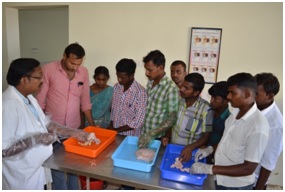 Faculty
Dr. S.Satheskumar, Professor and Head>
Dr. V.Prabaharan, Assistant Professor>
Dr. S.Raja, Assistant Professor>
Dr. S.Prakash, Assistant Professor
Contact
The Professor and Head,
Department of Veterinary Gynaecology and Obstetrics,
Veterinary College and Research Institute, Orathanadu,
Thanjavur- 614 625, Tamil Nadu, India
Email: vgovcriond@tanuvas.org.in