Objectives
This department has been functioning with the following objectives:
To impart education in Veterinary Medicine for the B.V.Sc & A.H under graduate students.
To demonstrate livestock and poultry diseases clinically.
To undertake the field oriented research programmes pertaining to Veterinary Medicine.
Transferring the laboratory technologies to farmers in their language with the aim of think globally, act locally.
Units
The Following Units Function under the Department Of Veterinary Medicine.
Large animal Out Patient Unit
Small animal Out Patient Unit
Ultra Sound Unit
ECG Unit
Critical care unit
Dermatology unit
Large animal In Patient Unit
Education
As per the VCI Regulation, the department is offering the following under graduate courses
UG Courses offered
Department of Veterinary Medicine offers the following courses to the undergraduate students. The infrastructure is also available in this department to take up the laboratory works.
VMD-411 Veterinary Clinical Medicine-I (General and Systemic)2+1
VMD-412 Veterinary Preventive Medicine-I (Bacterial, Fungal & Rickettsial Diseases)2+0
VMD-421 Veterinary Clinical Medicine-II (Metabolic and Deficiency Diseases) 2+0
VMD-422 Veterinary Preventive Medicine-II (Viral and Parasitic Diseases) 2+0
VMD-511 Animal welfare, Ethics and Jurisprudence (2+0)
VMD-511 Zoo/Wild Animal Breeding, Management, Nutrition and Healthcare (1+1)
VMD-513 Pet Animal Breeding, Management, Nutrition and Healthcare (1+1)
Infrastructure
Department of veterinary medicine has clinical medicine laboratory equipped with latest diagnostic tools. This department also has well established Disease Investigation Laboratory with basic and advanced equipments to perform disease diagnosis and research works.
Available equipments
All in one microscope
Semi auto analyzer
Double beam Spectrophotometer
Electrolyte Analyzer
Emergency and critical care equipments
Rumen fluid extraction unit
Woods Lamp
Electrical conductivity meter for milk
Teaching Stethoscope (multiple ear piece)
Ferroscope (metal detector)
Wild animal restraining equipments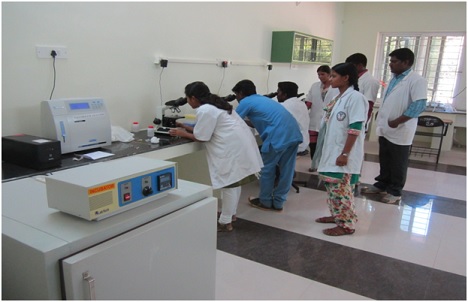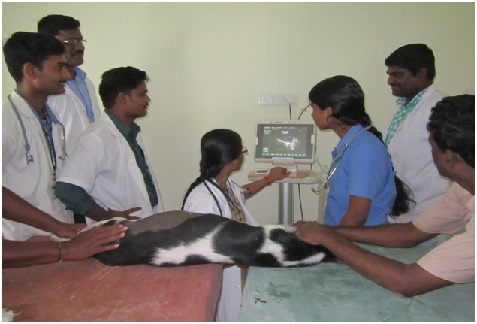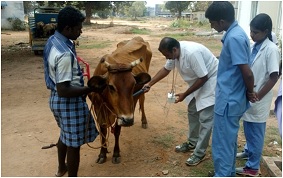 Faculty
Dr. N.Premalatha, Professor and Head
Dr.M.Veeraselvam, Assistant Professor
Dr. S.Yogeshpriya, Assistant Professor
Dr. K.Jayalakshmi, Assistant Professor
Dr. M.Venkatesan, Assistant Professor
Contact
The Professor and Head,
Department of Veterinary Medicine,
Veterinary College and Research Institute, Orathanadu,
Thanjavur- 614 625,
E.mail: vmdvcriond@tanuvas.org.in