Main Objectives
To cater the needs of farmers and entrepreneurs of Theni district in various Animal Husbandry activities to improve their living standards.
To impart on campus and off campus training on livestock and poultry farming to farmers.
To entry out rural development programmes related to Animal Husbandry in coordination with various Government agencies and NGOs for the upliftment of the rural women.
Participating in Kalnadai Pathukappu Thitam to create awareness about improved livestock management practices through video lessons, pamphlets and skill demonstrations.
Activities
The Centre caters to the needs of the livestock and poultry farmers like training, free consultancy, setting up of new farms, offering project reports. etc.
Training
The Centre offers on and off campus training programmes on the following
Dairying
Sheep and goat farming
Piggery
Poultry rearing (Layer, broiler, turkey and quail)
Rabbitry
Milk and milk products
Meat and meat products
Fodder cultivation
Infertility Management in Cows and buffaloes.
Skill development training for tribals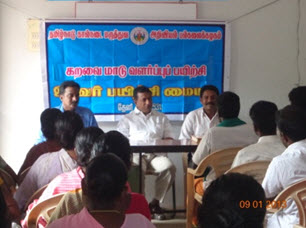 Consultancy Service
Farmers visit this Centre regularly to enquire about management of livestock and poultry, starting of farm and disease control. The free consultancy service is provided to farmers through letter, over phone and through mass media.
Technical Assistance to Entrepreneurs
Trained farmers are provided with project reports on various livestock enterprises to avail financial assistance from banks.
Mass Media Communication
A list of topics on Management and health care on Livestock and Poultry is being sent to All India Radio every quarter and the relevant topics are broadcast for the benefit of farmers once in a month.
Mass Contact Programme
Deworming, vaccination of Livestock & Poultry and popularization of modern technologies developed in the University. Video shows and exhibition are regularly being conducted in collaboration with line Departments in various Villages of Theni district.
Women Self Help Groups
About 4000 SHGs are functioning in this district. The Centre maintains a good rapport with the various Self Help Groups of Theni District with reference to turkey and rabbit farming SHGs are encouraged in starting of small feed mills. So as to, supply the feed in their local areas.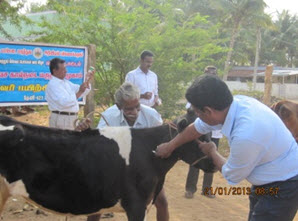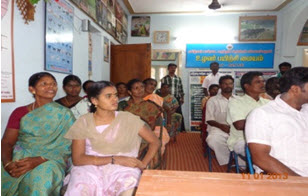 Faculty
Dr. S.Murugesan, Professor & Head
Dr. A.Senthilkumar, Assistant Professor
Dr. P.Balamurugan, Assistant Professor
Contact Details
The Professor and Head,
Farmers Training Centre,
Opposite to sub treasury office,
Madurai Road,
Theni-625531
Phone No.: +91-4546-260047