Mandate
Establishment of suitable infrastructure for Research, Education and Industry linkage.
Empowering the human resources to meet the changing need of the Poultry Industry.
Ensuring diversified poultry to be an alternative and viable enterprise.
Objective
To take up need based Research programmes for the Poultry Industry.
To create strong inter and intra linkages between entrepreneurs of Poultry Industry and the Institute through Technology dissemination and adoption.
To offer academic programmes of Excellence in Poultry Production and Management.
Education
At present, the College is embarked to offer B.Tech., (Poultry Technology) at the undergraduate level. Steps have already been taken to get AICTE approval for the Course. The college is gearing up to impart quality education in poultry engineering and technology by the young and energetic team of faculty. Guest lectures, field trips, industrial visits and skill development programmes are part of the regular educational process.
Research
The following on-going projects of CPPM, Hosur helps the students to have practical hands on training in day today poultry operations.
| S.No | Title of the programme | Funding agency | Fund outlay (in Lakh rupees) |
| --- | --- | --- | --- |
| 1 | Poultry Seed project | ICAR | 203.57 |
| 2 | Establishment of Feed manufacturing unit | TANUVAS | |
| 3 | Establishment of Feed testing laboratory | Govt. of India | 28.00 |
| 4 | Experiential Learning – Setting up of Facilities for hands on training on Model turkey post harvest technology unit | ICAR | 50.00 |
| 5 | TANUVAS SMART mineral mixture centre | TANUVAS | 3.00 |
| 6 | Establishment of Kadaknath chicken unit | TANUVAS | |
| 7 | Establishment of Japanese quail breeder unit | TANUVAS | |
| 8 | Establishment of native chicken unit | TANUVAS | |
Infrastructure
Library
The Existing library of College of Poultry Production and Management strives to be a pioneer in the country to support research and teaching in the areas of Poultry Engineering and Technology. Currently, the library is being subscribed with 1500 books and 61 journals from various disciplines of Basic science, Poultry science, Engineering and Technology. The library is fully automated and provides exceptional atmosphere for the students and staff to access journals and periodicals, textbooks and reference books.
E-library
The e – library has is acting as online knowledge hub to the students and faculty to access internet in this college. This college is Wi – Fi enabled with hi speed internet facility and is connected by LAN and WAN connection. The reprographic facility in the library helps the students to design and propose innovative projects at the Undergraduate level. The 10 kva UPS provides uninterrupted service to this laboratory.
Laboratories/Poultry Farm Complex
The college has well equipped laboratories to educate the students during practical'sbased on curriculum many equipment's were available and to do research. A very well established Poultry farm complex with hatchery unit, breeder and commercial poultry unit, poultry processing laboratory, feed mill unit, feed testing laboratory are available for hands on training to the students.
Student Hostel
A well furnished hostel facility is available within the campus for both boys and girls of UG students separately. Rooms are well ventilated with complete mosquito netting. The students are provided with hot water, RO drinking water, indoor gym, washing machine and in-house mess. The mess is run by students themselves to ensure that a balanced and nutritious meal is served to students.
Examination Hall
The college has a well ventilated examination hall with an approximate capacity of 100 students to take up the exam at a time.
Other Facilities
A well established farm complex
An automated hatchery
Feed manufacturing unit
Poultry Farm Complex
A well established poultry farm complex is having 20 sheds to house various poultry species. It is meant for instructional purpose and to establish hands on training to the students. At present Poultry Seed Project is functioning in CPPM at a cost of 203.57 lakhs funded by ICAR, New Delhi.
Salient features of Gramapriya :
To increase the availability of eggs in rural and tribal areas
Female can produce 180 eggs / 1 year of production (72 weeks of age)
High disease resistance and immune competence helps better survivability in free range conditions
They have longer shanks are moderate in body weight and produce brown shell eggs
Salient features of Vanaraja :
Dual purpose breed (gives both egg and meat)
Can attain weight 650 – 750 gm body weight at 6 weeks of age
Can produce 110 eggs / year under free range conditions
Attractive multi colour pattern
High general immune competence
Can perform in low plane of nutrition
Grow faster and produce more eggs than desi hen
Produce brown eggs like desi hen
Feed Mixing Complex
The feed mixing complex is established in 12102 square feet area with an additional 2163 square feet of drying yard. The complex has
Preparation of Livestock feed unit.
Preparation of TANUVAS SMART mineral mixture unit
Livestock Feed Unit
The Livestock feed unit was established at a cost of Rs. 27 lakhs under revolving fund from TANUVAS. The feed unit is a semi – automated establishment having a production capacity of 2.0 tons / hr. The feed unit is installed to produce both livestock and poultry feeds.
TANUVAS SMART Mineral Mixture Unit
The TANUVAS SMART mineral mixture unit is established at a cost of 3 lakhs under revolving fund from TANUVAS. The mixture capacity is 200kgs / 15 minutes.
Conference hall
The college has a well furnished and well equipped Conference Hall with the state of art audio visual facility to accommodate 100 members and a Board room for routine in house meetings.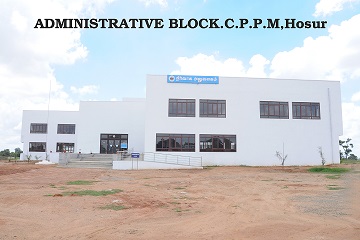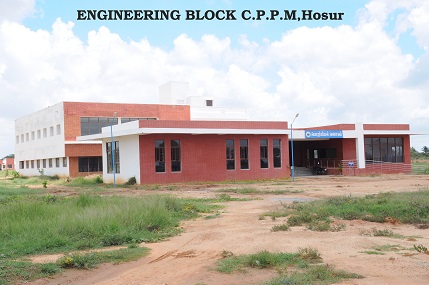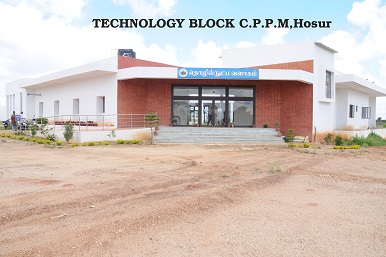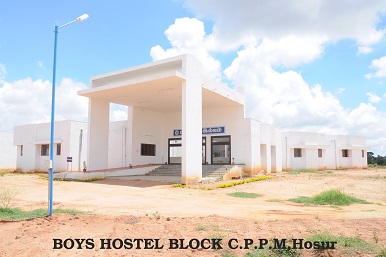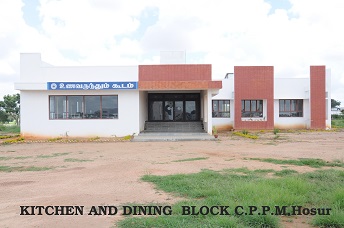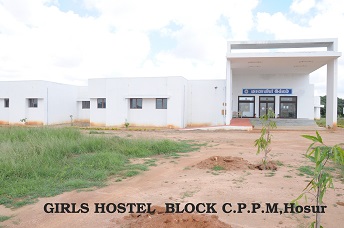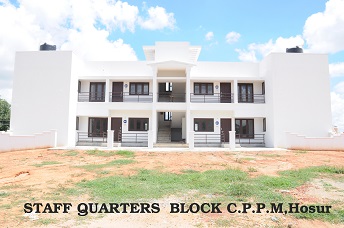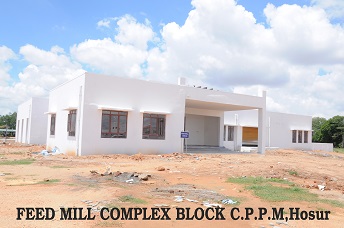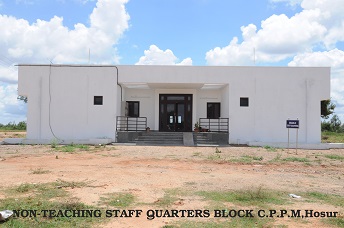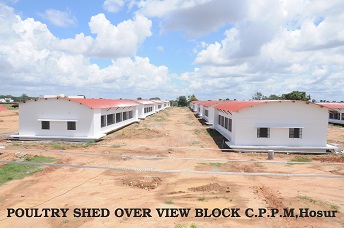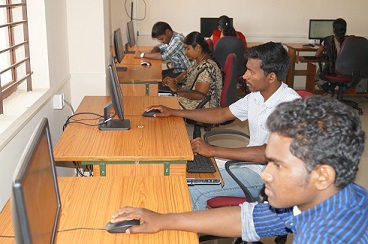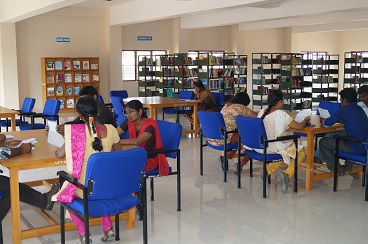 Extension
Skill development programme
CPPM, Hosur in association with Directorate of Distance Education, TANUVAS is conducting skill development training programme entitled "Poultry Vaccinator" for the unemployed people to create self confidence and self employment opportunities.