National Initiative on Climate Resilient Agriculture (NICRA) has been promoted in the 11th five year plan by the Indian Council of Agricultural Research (ICAR) under the technical leadership of Central Research Institute for dry land agriculture (CRIDA) at Hyderabad. This project is being implemented in 100 districts in India out of which 4 districts have been selected in Tamil Nadu. NICRA is being presently initiated by Krishi Vigyan Kendra, Tamil Nadu Veterinary and Animal Sciences University, Namakkal at Vadavathur village which has recorded an average rainfall of only 400 mm for the past 20 years. In Vadavathur 829 families totally 2850 number of peoples are living in which 600 families were benefited under the NICRA Scheme. A custom hiring centre for farm implements, improving rain water harvesting structures and bring new technologies in Agriculture, Horticulture, Livestock, Poultry and fisheries to sustain livelihood of the farmers are the major intervention in this scheme.
The Main Objectives of NICRA Scheme at Vadavathur, Erumaipatti block, Namakkal District are
Natural Resource Management.
Crop production and protection to combat drought
Livestock and Fisheries production to with stand drought
Institutional approach for group activities.
Natural Resource Management
Two community ponds namely Senguttai in an area of 1.2 acres and Ayiramkuttai in an area of 1.5 acres, were desilted, repaired and inlet channels were cleaned. This intervention helped in recharging 22 bore wells and 10 open wells and increased the water table by 8 to 20 feet. Temporary water storage tank using HDPE 200 GSM plastic lining sheets were also established in five farmers field. Due to this, with the same quantity of water they could cultivate onion in one and half times area than usually done.
Farm ponds
Senguttai – 125 x 90 x18 (Feet)
Ayiram kuttai – 128 x 89 x 10 (Feet)

Temporary water storage ponds are established in the following farmers' field at Vadavathur and Jambumadai.
K.Nagarai - 57 x 40 x6 (Feet)
P.Ramar – 70 x 60 x 6 (Feet)
T.Pannerselvam – 70 x 50 x5(Feet)
B.Dhanalakshmi – 72 x 55 x 6 (Feet)
P.Balusami – 75 x 55 x 6 (Feet)
Weather station
A manual weather station is installed and daily recording of rainfall, temperature, wind direction, wind speed, relative humidity, soil moisture and suitable weather advisory are given. Nearly 600 farmers are benefited.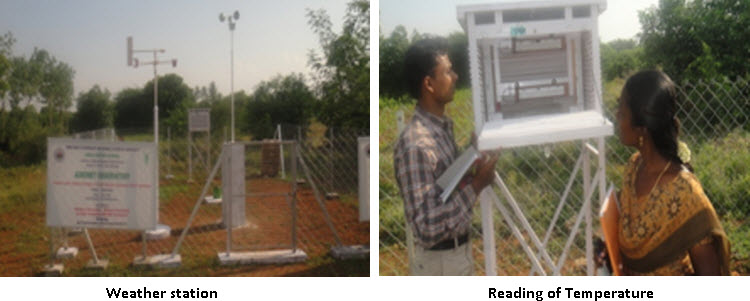 Crop production
Agricultural crops
In vadavathur village seeds of drought tolerant crops like Black gram (CO 6), Red gram ( CO 7), green gram (Vamban 3), Groundnut ( CO 6), TMV 13, Castor YRCH-1,Sorgum Co -30 and forage crops like COFS 29, Cumbu Napier grass Co 4, tree fodder like Subabul and Agathi and their production technologies were given to the farmers. Vermicompost using Silpauln sheet and earthworm were also distributed the farmers.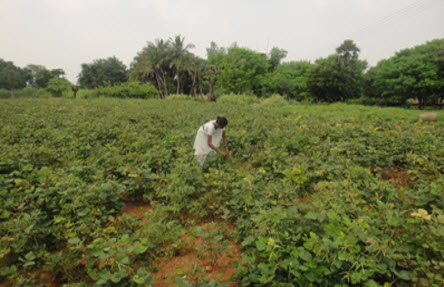 Black gram CO-6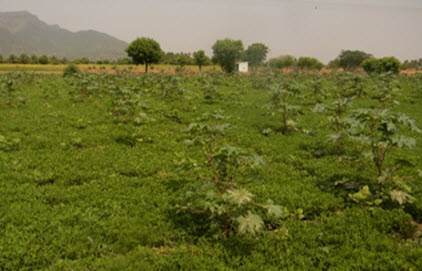 Ground nut TMV 13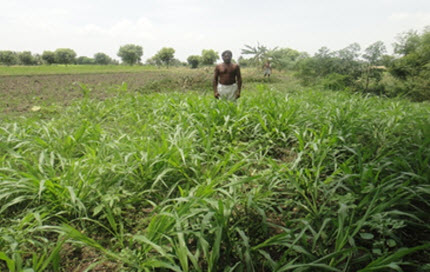 Cumbu Napier grass Co 4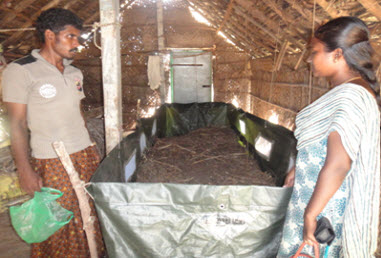 Vermicompost
Horticultural Crops
In vadavathur village seeds of drought tolerant vegetable crops like Annual moringa variety PKM, Bhagya and Bush type lab lab var CO 4 B (14) and planting material of drought tolerant flower crops viz., Jasmine (Var Ramanathapuram gundu) and Tuberose (Var Prajwal) were introduced. Kitchen garden seeds for 1 cent area were also distributed and the farmers are using vegetables for their own use. In addition, tip drying of small onion due to dew drops was controlled by means of spraying of water through mobile sprinkler and by using rope method. By these methods the dew drops present in the tip of onion leaf sheath were washed out and tip drying was prevented.
Livestock and Fisheries
Livestock
Telicherry and NARI- SWARNA breeder goat and sheep were introduced for genetic improvement of native Goat and sheep respectively. The kid weight gain was about 12 – 14 kg within four months. Rearing of goats under slatted floor is adopted in this village to maintain shelter to the animals. A rural youth has been trained for Artificial insemination of cows. Once in three months vaccination and deworming is carried out in the village to the animals. Mineral block and mineral mixture were given to the animals for supplementary nutrient deficiency. Mineral block making equipments were given to the self help group for preparation and distribution to KVK, Namakkal.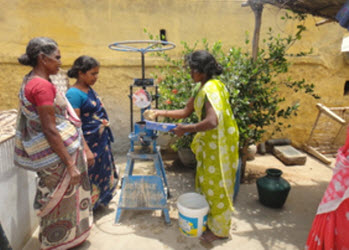 Mineral Block Making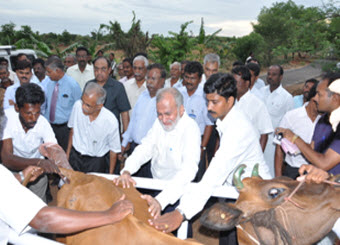 Artificial Insemination of Cows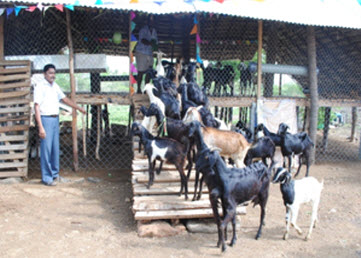 Slatted floor goat rearing technology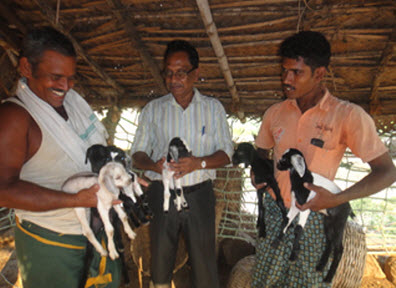 Cross breed kids
Fisheries
Polythene lined temporary water storage tank formed in five farmer's field were also stocked with carp fingerlinks (4000 numbers) which was provided to the farmers. 300 ornamental fishes were also given which gave them an additional income of Rs.5000/- .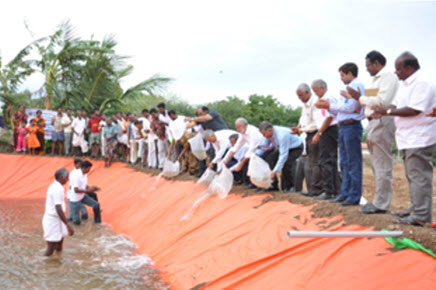 Stocking fingerlings in pond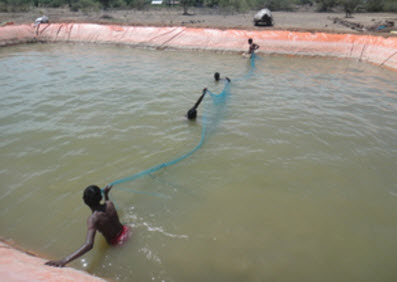 Harvesting of fish
Institutional approach
Custom hiring implements
Thalamalaiyan Pasumai Iyyakkam farmers purchased the tractor and other implements like Rotovator, Cultivator with spring, Seed cum fertilizer driller, Ridge former, Bund former,Chain block, Chisel plough, Battery operator power sprayer, Mobile sprinkler and Electronic weighing balance was purchased the under the NICRA Scheme and given to the farmers.

Training programme and exposure visit
The special training programme was conducted for Vadavathur village farmers, training like onion cultivation, mushroom, azolla, fodder cultivation, vegetable, jasmine cultivation, desi bird farming and sheep and goat rearing method. Under NICRA scheme, farmers were given the awareness on new technologies through exposure visit.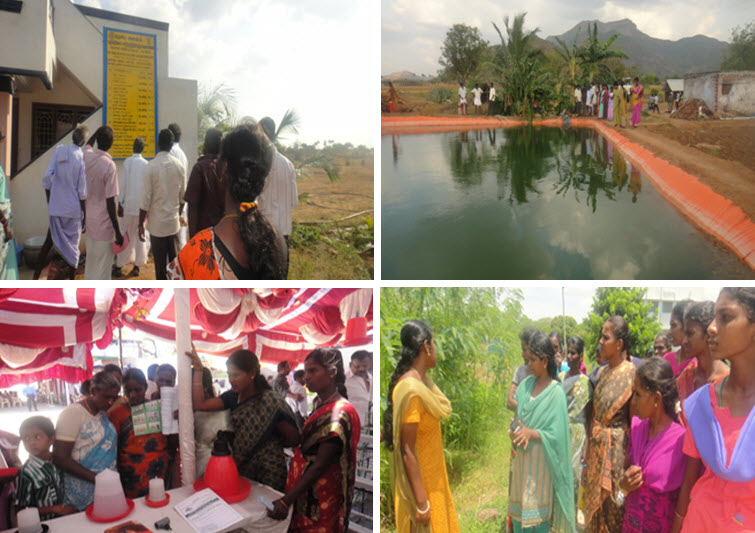 Krishi Vigyan Kendra, Co-Ordinating Team
Mr. S.Alagudurai (Agronomy)
Mrs. C.Shamila Bharadhi (Horticulture)
Dr. K.Senthil Kumar (Dairy,Sheep and Goat)
Dr. S.Anand (Fisheries)
Dr. P.Vikramachakravarthi (Veg. Pharmacology)
Dr. M.Sakthi Priya (Veg. Pharmacology and Toxicology)
Dr. V. Kumaravel (Animal Nutrition)
Dr. K.Panner Selvam (Socio-economist)
Mrs. G.Gohila (JRF)
Mrs. R.Sangeetha (JRF)
Programme Co- Coordinator
Professor and Head,
Krishi Vigyan Kendra,
Veterinary College and Research Institute Campus,
Namakkal – 637002
Ph. 04286- 266345,266650.
Web site: www.namakkalkvk.com