Animal Husbandry Division
Following are the prime activities of the Animal Husbandry division of KVK, Kattupakkam:
Training
Training to Farmers/Farm Women/Rural Youth/Extension Functionaries is being carried out on regular basis. Thrust areas for training are being identified based on the clientele needs. In order to update the knowledge on modern animal husbandry practices, trainings to extension functionaries is being organised on regular basis. Sponsored training programmes are also organized as per the demand from sponsoring agencies. Offcampus/Non-residential trainings are organised on periodical manner. In addition to this, trainings are offered to the Tamil Nadu Government Animal husbandry Department special scheme beneficiaries (Free distribution of milch cows/Goats/Sheep) at their door steps.

On-Farm Testing
Suitable farmer's field where the experiments can be carried out will be selected for on-Farm testing. Mostly location specific technologies are selected for evaluation and elegance. By means of this programme, the practical field problems of the animal husbandry farmers are solved. The common OFT's are Assessment of oral pellet vaccine for control of Ranikhet disease in desi chicken, Assessment of area-specific mineral mixture for dairy cows, Synchronization of estrus in dairy cows,etc.,

Farm Advisory and Extension Service
Scientists of this KVK regularly visit the famers field on weekly basis in collaboration with Department of Animal Husbandry for implementation of various schemes like ATMA, IAMWARM, etc., During the visit the field problems will be assessed and suitable remedial measures are advised on the spot. Farm advisory service is being offered in person as well as through post and mobile. Under extension service, Field days, farmers fair, Seminars, Pongal vizha, Womens day are being organized for the benefit of the farming community.
Demonstration Units
KVK has various instructional farms that are developed on an integrated farming system approach with number of demonstration units established over a period of time.

Functional Linkage with Different Organizations
State Department of Agriculture
State Animal Husbandry Department
National Bank of Agricultural and Rural Development
Tamil Nadu Livestock Development Agency
Training of extension functionaries
Collaborative animal camps, trainings etc
Participation in meeting, training
Artificial Insemination trainings to the rural unemployed youth
The following Extension activities regularly doing for the benefit of farming community
Method demonstration
Field days
Farmer Field school
Farm advisory service
Radio talk
Exhibitions
Farm Science Club meet
Diagnostic Field visit
Line Department meeting
Mass Contact Programme
Technology week to be organized
Television talk
Guest lecture
Farm visits
SMS Service to farmer mobile
Researcher-Extension personal – Farmers interaction meet
Agricultural Activities
1. Need based training programmes are conducted on different field crops for Practicing Farmers and Practicing Farm women.
SRI Technology in Paddy
SSI Technology in Sugarcane
ICM Technology in Maize
ICM Technology in Pulses
Organic manure production methods
ICM Technology in Groundnut and other oilseed crops
Importance & Procedure for soil & water testing
Saline / Alkaline soil management technology
Organic Agriculture
Green fodder production technology
Tree cultivation under wasteland
Integrated farming system models

2. Training programmes of innovative technologies are conducted to Extension Functionaries for dissemination of technologies among the farmers
Seed production techniques in agricultural crops
Seed production technology for groundnut
Integrated pest & disease management in agricultural crops
Integrated Nutrient and weed management in agricultural crops
Integrated farming system for different ecosystem
Horticulture Development Activities
Kancheepuram district situated in North Eastern Coastal Zone of Tamil Nadu and is receiving average rainfall of 1211 mm annually. This district is having larger scope for the cultivation of horticultural crops particularly fruits, vegetables and cash crops like flower crops and medicinal and aromatic crops. Because Kancheepuram district facing labour problem which makes the farmers to go for perennial fruit crops and farm mechanization. Due to such problems farmers also inclined to erect drip system for vegetable cultivation through precision farming technology. Because of availability of traders & marketing facilities for medicinal & aromatic crops farmers interested in cultivation of these crops.
KVK mandated activities in the area of Horticulture are given importance

On farm trials: (OFT)
OFT is being conducted at farmers field for finding solution to the local problems in crop production. OFT is conducted in Mango, Chillies, Jasmine, Brinjal, Bittergourd, Bhendi and coconut crops during past years in 40 ha area of with 390 farmers field. The following problems were taken for trials and results were recommended to farmers.
Flower induction in mango
Control of fruit borer in brinjal
Control of pest & disease complex in chillies
Control of fruit borer in bittergourd
Control of yellow vein mosaic virus in bhendi
Control of Rhinocerous beetle in coconut
Front Line Demonstration : (FLD)
FLD is being conducted at farmers field to introduce newer crop hybrid varieties and technologies. FLD is mostly conducted in vegetable crops popularising hybrid and high yielding varieties. FLD is conducted in Brinjal, Chillies, Bhendi, Bittergourd, Snakegourd, Bottlegourd, Watermelon & Cucumber and other crops. More than 22 varieties have been introduced to farmers in horticultural crops.
Training Programmes
A training programme is conducted for a duration of 2 days on need based crop production technology and season oriented.
Fisheries
Resources
Kancheepuram district is popularly known as "Lake District" having freshwater resource of 13,340 ha. Its a coastal district with 87.2km coastal length. The district also has 5424 ha of estuaries and backwaters. Out of 13 blocks, 5 are coastal blocks and the district ranks third in the state fish production. Inland aquaculture, coastal aquaculture, fishing and fish curing are the major fisheries activities of the district.
Contribution of KVK to the district in fisheries development

On Farm Testing (OFT)
OFT for immediate solutions for the selected field oriented problems with the farmers' participation are being attempted regularly. OFT are also designed to assess newly available technologies in the farmers' field itself in the form of technology assessment and refinement. Some of the OFTs conducted from the year 2000 are control of filamentous algae in ornamental fish farms, low cost protein supplement for prawn feed, evaluation of spirulina incorporated ornamental fish feed, Induced breeding of ornamental fishes, Polyherbal mix for immune enhancement in tiger shrimps, sea bass farming in freshwater, cage rearing of freshwater fishes and Herbal fortified feed for colour and immune enhancement in ornamental fishes.
Front Line Demonstration
Basic approach in FLD is to demonstrate proven technology at the farmers' field. FLDs like popularisation of smoke cured fish preparation in fishing villages, popularisation of carp farming, prawn farming and polyculture of carps and prawn farming in community water bodies are being carried out from the year 2004.
Training
The training programmes are planned based on the requirements of the target groups. On campus and Off campus training programmes are being offered to rural youth farmers, farm women, fisherwomen and extension functionaries. Method demonstration of value added fish products, fabrication of glass aquarium tanks, fish feed preparation & fish processing methods are also being imparted. Training programmes offered carp farming, prawn farming, polyculture of carp and prawn, integrated fish farming, pangasius farming, murrel farming, ornamental fish farming, shrimp farming, seabass farming, cage rearing of fishes, fish processing methods, value added fish products, fish seed production and rearing, crab fattening and fish feed preparation.
Farmers Clubs
Organized two farmers, one for ornamental fish farmers and the other for farmers cultivating edible fish varieties to create network among them for input sharing and marketing.
Advisory Services
Farm advisory service is rendered in person, by post, over telephone, by e-mail and through field visits.
Externally funded projects
Trained 200 fisherwomen through DBT, New Delhi funded project on production and marketing of value added fish products. Trained 50 farmers on intensive aquaculture in ponds and tanks through the fund raised from National Fisheries Development Board. Training is being imparted to ornamental fish farmers of the state on recent developments and new technologies in ornamental fish rearing and breeding through the project funded by MPEDA, Kochi.
Home Science
SHG concept and Entrepreneurship developments
The SHG concept lays greater emphasis in promoting self – reliance, group credit by linking the groups with training institutions and giving technical support for economic development. Establishment of SHG in Kanchipuram district of Tamil Nadu shows a tremendous growth over the years on all aspects. KVK, Kattupakkam formed 235 SHGs over a period of 25 years. KVK plays a major role in formation of SHG's and continuously providing technical supports.
Training programmes
Training is one of the important functions of KVK. KVK provide trainings to impart knowledge and develop new skills required for adoption of latest technology and build up scientific altitude among farmers, farm women and SHG women.
Post Harvest Technologies
Farmers and farm women faces problem in storing perishable agriculture produces. KVK made an attempt to transfer technologies to reduce post harvest losses. Method Demonstrations on value addition not only improves the quality of the product, but also increase the revenue for their produce.
Homecare Products
Phenoyl, soap oil, soap powder, agarbathi, candles, sambirani, liquid blue, liquid bleach, etc.
Vocational Training
Vocational trainings on Handicrafts for school children during summer holidays was organized every year. Vocational training on Bakery products was conducted for SHG women.
Marketing Facilities
KVK opened sales outlet on November 2011 in the premises of KVK to sale SHG products and farmers produces. KVK trained entrepreneurs displayed their products at sales outlet. KVK also assisting the entrepreneurs in packing and branding their products. KVK also assisted them to participate in the Fairs and Exhibitions and market their products. Also recommend industries, institutions and universities to market their products
Special Days Celebrated
International Women Day, National Nutrition Week and Parthenium Awareness Campaign were celebrated regularly at KVK, Kattupakkam.
In collaboration with NABARD various schemes are running at KVK, Kattupakkam.
NABARD Village Development Programme
NABARD Farmers Club
NABARD Rural Mart at KVK premises
Revolving Fund
Under revolving fund activity various value added food products such as flavoured milk, paneer, quail egg pickle, children pickle other vegetable pickles, nutrimix and paneer pressing device are selling.
Agricultural Engineering
List of Training Programme to be organized
Popularization of farm implements sowing to harvesting
Energy saving devices – solar devices and biogas plants
Micro irrigation methods (Drip & Sprinkler)
Water management in agricultural & horticulture crops
Processing of cereals oil seeds and pulses.
Scientific storage of food grains
Processing technology for vegetables
Soil conservation and Soil erosion
Farm implements and processing equipments related to agriculture – Availability and Subsidy.
Dehydrated vegetables
Guidance on water managements based on meteorological data.
Guidance related to water shed developments.
Sale / Hiring of farm implements
Wetland paddy drumseeder
Conoweeder, dryland weeder
Coconut climber
Sugarcane set cutter
Sugarcane knife
Amla seed remover
Rat and Bandicoot trap
Seed cum fertilizer broadcaster
Paneer Pressing device
Bhendi cutter
Grountnut stripper
Maize sheller
Awards
Dr. P. Kumaravel, Programme Coordinator and Head, KVK, Kattupakkam, Kancheepuram District along with the Vice-Chancellor received the National Best KVK Award for the year 2009 from Her Excellency the President of India during the Fifth National Conference on Krishi Vigyan Kendra (KVK) – 2010 organized by the Indian Council of Agricultural Research, New Delhi on 22.12.2010 at Maharana Pratap University of Agriculture and Technology Campus, Udaipur.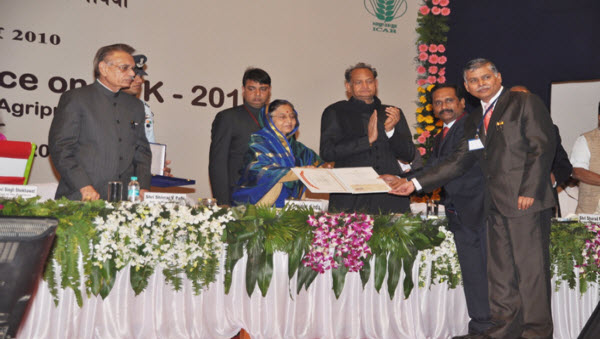 Special Programmes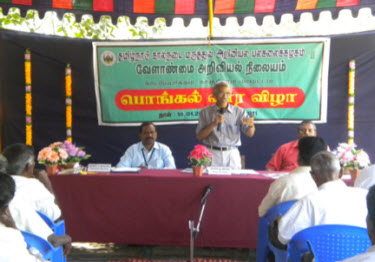 Pongal technology Week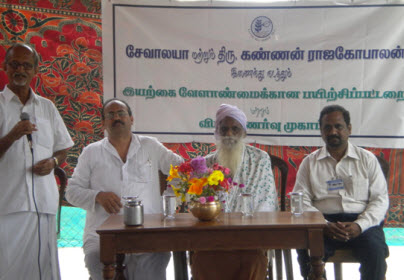 Organic Farmig - Seminar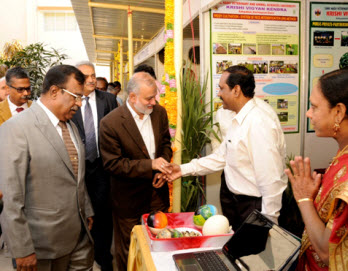 KVK Zonal Exhibition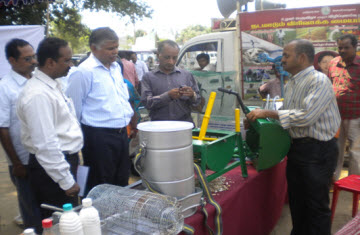 Uzhavar Peruvizha - Exhibition