Genesis
The Veterinary University Training and Research Centre, Cuddalore is functioning at No.35, Thiruvalluvar Street, Varadharajan Nagar, Semmandalam, Cuddalore - 607 001 from 01.07.2006, in a rented building. The centre is located at the western side of Kandasamy Naidu College for women and next to SBI Colony Street. The centre has easy access to the main road. Town bus and share auto facilities are available. Steps are taken to construct a permanent building for the centre at Chengiee Kumarάpuram village near Cuddalore.
Objectives
To impart training on the felt needs of the end users, practising farmers and officers of the line departments.
To act as a two way channel between the University and the farmers; to identify the field based livestock and poultry problems and also to pass on the remedial measures.
To conduct on-farm trials on the latest research findings of the University and field oriented problems specific to the area.
To ensure an immediate and proper diagnosis of disease in the event of an outbreak with special emphasis on disease reporting system.
To motivate and encourage local farmers in establishing livestock and poultry farms for self-employment.
To collaborate with Central and State sponsored rural development Programmes.
To act as interface of Tamil Nadu Veterinary and Animal Sciences University in dissemination of knowledge and proven technologies to the farmers, farm women, entrepreneurs and line departments through various extension programmes involving mass media.
To develop and maintain data base on livestock and poultry in the area.
To carryout short term need based location specific projects.
Services Rendered
Offering off-campus Pre and Post-purchase training programme to the beneficiaries of Honourable Chief Minister's Priceless Goat / Milch Cow Scheme in Cuddalore district utilizing audio – visual aids.
On-campus training programmes are offered on Dairy farming, Sheep and Goat farming, Desi fowl farming, Backyard poultry farming, Broiler farming, Turkey farming, Japanese quail farming, Rabbit farming, Piggery, Value added milk products preparation, Green fodder production and Disease management in livestock and poultry farming.
Out-reach training programmes, health camps, mass contact programmes, infertility camps, seminars, workshops, etc., are also organized in co-ordination with the line departments, non – governmental organizations and other educational institutions.
Self Employment and Skill development Training Programmes instituted by the Directorate of Distance Education, TANUVAS, Chennai are carried out.
Advisory services on various livestock and poultry farming through telephone, mobile phone, e-mail, post - card, touch screen kiosk and in person are rendered.
Technical advices through farm visits are carried out.
Dissemination of technologies through guest lectures, exhibitions, by way of radio talks, popular articles, pamphlets, books, journals, newspapers, etc.
Disease investigation during disease outbreaks.
Conduct of post-mortem for disease confirmation and suggesting prophylactic measures.
Collection and examination of samples for disease diagnosis and prevention.
Organizing farmers meet to disseminate the technology to the farmers and to assess the farmers problems at field level and to solve the same in livestock management.
Motivating young farmers, self help group women, school drop outs, unemployed graduates on "Entrepreneurship through livestock farming practices"
Creating awareness about the importance of green fodder production and feeding of mineral mixture and vaccination in order to improve the productivity and health status of the livestock.
Sale of University publications and TANUVAS mineral mixture.
Assisting in the implementation of University Schemes, Aavin Survey work and projects of other line departments.
Organizing and conducting workshops, seminars, symposiums for the benefit of livestock owners.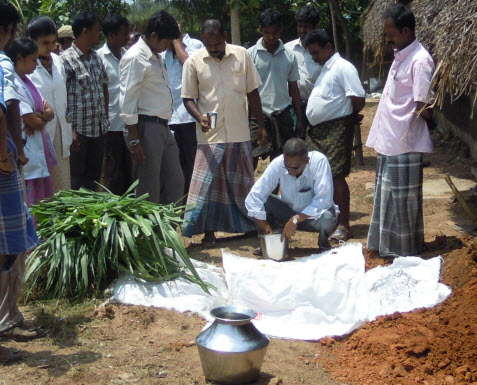 Demonstration of silage preparation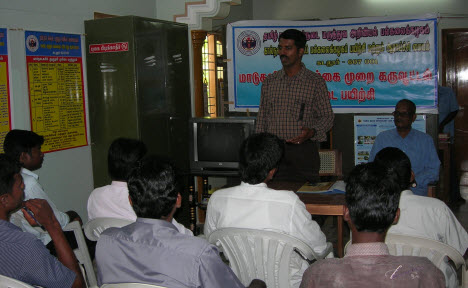 On-campus training programme

Training to the beneficiaries of priceless goat/milch cow scheme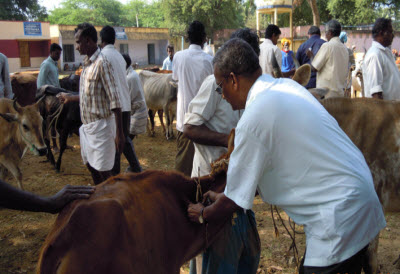 Animal health camp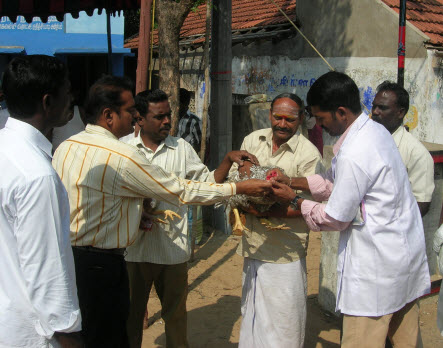 Oral pellet vaccination camp for desi fowl
Technologies Transfered
Enrichment of paddy straw with urea to Women Self Help Groups and Dairy farmers.
Azolla cultivation for livestock and poultry farmers.
Inclusion of TANUVAS mineral mixture in livestock feed to increase productivity and improve health status of the animals.
Preparation methods of various value added milk products to Women Self Help Groups for self entrepreneurship and also to increase their income from the milk by-products.
Green fodder production to reduce the feed cost and to improve the productivity of farm animals.
Research Activities
In association with Department of Animal Nutrition, Madras Veterinary College, Chennai, a NADP scheme on "Validating the research on mineral map of Tamilnadu" was completed
A DBT scheme on "Empowerment of women self help group through entrepreneurial training in scientific Quail farming" was completed.
A NADP scheme on "Genetic up-gradation of Cattle and Buffaloes in Tamilnadu: adoption of oestrus synchronization techniques to improve productive and reproduction potential" was implemented along with Department of Animal Reproduction Gynaecology and Obstetrics, Madras veterinary College, Chennai-7.
A Bench Mark Survey on package of practices in association with Aavin was completed.
Village adoption
Inorder to rejuvenate the worst affected parts of Cuddalore district after 'Thane' cyclone, eight villages namely Vellapakkam, Karaikadu, Enathirimangalam, Sathipattu, Anguchettipalayam, Naduthittu, Aayeekuppam and Aapathranapuram were adopted by Veterinary University Training and Research Centre, Cuddalore.
Activities
Oral Pellet Vaccination for Desi Chicken was carried out in the adopted villages in association with the Department of Animal Husbandry. A total of 4000 doses in eight villages were covered.
Blue Tongue Vaccination for sheep was carried out in the adopted villages in association with the Department of Animal Husbandry. A total of 5000 doses were covered.
A total of 1200 (1000 female + 200 male) Aseel chicks and 25 Large White Yorkshire piglets were distributed to the interested farmers in the adopted villages in order to improve their livelihood options.
Special Programmes
Training to beneficiaries of
Honorable Chief Minister's Poultry Development Scheme of Government of Tamil Nadu.
NMPS – National Mission for Protein Supplement of Government of India.
NADP-AFDP – National Agricultural Development Programme – Agricultural Fodder Development Programme.
Other Informations
About 10,000 Co-3 fodder slips were distributed to farmers of Cuddalore district, besides educating them about the importance of fodder in milk production.
Due to effective training on Poultry farming and Goat farming about 234 farmers have started their own Quail Farm, Broiler Farm, Layer Farm and Goat Farm.
The activities of the centre is regularly disseminated though medias like Radio, Newspaper, Newsletter, Kalnadaikathir etc.,
Future Programmes
Training to the beneficiaries of Priceless Goat / Milch Cows.
Training on 'Goat farming' to the beneficiaries under Vazhndhu kattuvom Project.
Screening for important bacterial, viral and parasitic diseases among farm animals.
Creating awareness among students, farmers and women SHGs about the animal husbandry and Veterinary science practices by means of conducting guest lectures, exhibitions and campaigns.
Adoption of more villages for empowerment of rural women and farmers through transfer of technology.
Skill development and self employment training courses to be offered regularly.
Artificial Insemination training to para-veterinarians through TNLDAb .
Farmers meet to be conducted regularly.
Faculty
Dr. P.Murali, Assistant Professor
Contact
The Professor and Head,
Veterinary University Training and Research Centre,
Gundu Salai, Semmandalam, Cuddalore-607 001.
Phone: +91-4142 – 290249 E.mail: cuddalorevutrc@tanuvas.org.inand sureshkumar.s@tanuvas.ac.in